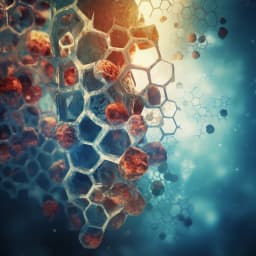 Sep 28, 2023
Recognising Blood Cancer Awareness Month

The vital role of novel research and development in tackling blood cancers like myeloproliferative neoplasms and myeloma.
September marks Blood Cancer Awareness Month, a time to highlight the ongoing fight against blood cancers in the UK and around the world. As the spotlight shines on this crucial issue, it's also important to recognise where advancements in research and therapy development are making strides towards a positive future.
The Impact of Blood Cancers on Patients
Blood cancers, including Myeloproliferative Neoplasms (MPNs) and Myeloma, represent a significant health concern within the UK. According to Blood Cancer UK and CRUK, respectively, MPNs affect around 4,180 people each year, whilst Myeloma accounts for 2% of all new cancer cases.
Living with these conditions is a daily struggle for many, dealing not only with physical symptoms but also with significant psychological stress. Early and accurate diagnosis can make a considerable difference, allowing for timely intervention and improved treatment outcomes.
The tireless work and investment of the research community has led to a step change in available therapies for MPNs and Myeloma, two diseases that were once significantly underserved with treatment options.
How Digital Pathology and AI Biomarkers can Help
Here at Ground Truth Labs (GTL), we are leveraging cutting-edge digital pathology tools and AI to revolutionise the analysis of bone marrow samples in blood cancers.
We're lucky to work every day with some of the smartest and most driven researchers towards easing the burden for patients and healthcare professionals and systems alike. These tools support the development of new therapies and treatment strategies and to eventually enhance the diagnostic process, for complex cases of blood cancer like MPNs and Myeloma. Our biomarkers help researchers evaluate the effectiveness of new treatments and understand the underlying biological characteristics that might make a trial participant more likely to respond to treatment. In this way, clinical trials can be de-risked and timelines accelerated so that we can get transformative therapies to patients safely and quickly.
In MPN
Our AI biomarkers in MPN
Help pathologists to quantitatively grade fibrosis, stratifying patients into likely responder groups as well as contextualising their disease and response to therapy with larger, curated, cohorts [Leukemia 2022]
Help understand the morphology of MPN patient's megakaryocytes and subtype them according to this definitional component of the disease biology [Blood Adv 2020]
In Myeloma
Our AI analysis of plasma cell burden quantifies and analyses the bone marrow to more accurately classify infiltration. Among several other use cases these tools can be used to help predict the risk of "smouldering" or latent myeloma becoming active in certain patients [Blood 2022].
Looking to the Future
As we observe Blood Cancer Awareness Month, it's important to note that while significant challenges remain, there is also much reason for hope. The work we're doing at GTL is a small part of a much larger global effort to combat blood cancers and improve patient outcomes.
To those living with blood cancer, to their families and friends, and to the tireless researchers, clinicians and advocates fighting alongside them – we extend our support throughout this month, and throughout every other month of the year.